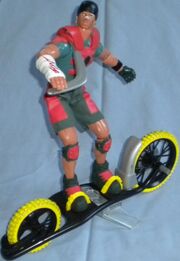 Flynt is an Action Force member. He's brash and loud, but enjoys life to the fullest. He uses a boomerang as his main weapon and, despite having his right hand usually in plaster, is very proficient with it. Flynt uses a skate-bike or a snowboard as means to transport. He is also good with computers.
Direct to video movies
[
]
Flynt appears in Action Man: Robot Atak as a fugitive, along with Action Force, after Action Man being framed by No Face. After the final battle against Dr X, No Face and the X Robots, Flynt redirects the missiles that Dr X launched back to Dr X's base. At the end of the movie, the charges on Action Force are cleared.
In Action Man: X Missions, we learn Flynt is Australian.
He also appears in Action Man: Código Gangrena
Toys
[
]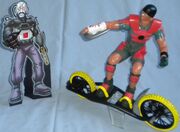 The first Flynt figure wore a (non-removeable) shirt with red protective padding, green shorts and green sneakers with molded-on red laces. He included a boomerang (that could be shoot by a trigger on his right arm plaster), a Skate-bike, and a X Robot practise dummy.
The second Flynt figure wore a (non-removeable) black shirt, baggy pants and black boots. He included a boomerang (with the same gimmick as the first version) and a disc-shooting snowboard.
External links
[
]