Jurassic World: Dominion Dominates Fandom Wikis - The Loop
Play Sound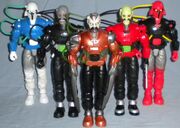 The X Robots are Dr X's main strike force. their face is shaped after Dr X himself.
Direct to video movies
[
]
The X Robots first appear in Action Man: Robot Atak, where they seem invincible at first, until Action Man finds their weak spot: a panel on their chests that, when hit, makes them explode.
The X Robots appear again in Action Man: X Missions, attacking the ISD facilities. This movie also shows the "Absolute Zero" unit, who is defeated by Flynt.
The X Robots make a final appearance in Action Man: Código Gangrena.
Toys
[
]
Three X Robots were released as toys during 2004. Two of them were sold in single packs and the other came in a versus pack with Power Combat Action Man. The only differences between the robots were their colors (one was red, the other black and the versus pack one was grey) and the numbers on their back (the red one had number 310, while the black one had number 011) the Grey one is number 154. All three X Robots included the same gimmick: by pressing a button on their chest, they "exploded" (the face, right shoulder and part of the chest were shot apart). In order to not have they exploding at any time, another button on the back had to be pressed in order to unlock the gimmick.
A dark Green X-Robot was supplied in an orange side box attached to another Action Man toy and is numbered 011 also a Blue one was supplied with an Action Man Submarine sold in UK Woolworths Stores.
A Yellow One was shown in cross-sell leaflets in a two pack with a Fencer Action Man but it's release to store in the UK is currently unconfirmed.
Later, a new version of the X Robot, named "Toxic Robot" was released. It came in copperish red colors and included sword-shaped hands, a new skull-shaped shoulder and a new face reflecting Dr X's slight changes in appearance. It retained the "exploding" gimmick and had the number 011 from the former black version on his back.
An Action Man set released in the Netherlands entitled Samurai Action Man Vs Robot Doctor X also contains a further repaint of the X-robot design in Grey and Purple repositioned as a version of Doctor X himself.
2008 saw two new versions of the X-Robots released. Those are similar in appearance to the original ones, but their face was changed to reflect Dr X's new helmeted appearance. Their colors have a "fire and ice" motif, being the "fire" one black and red, and the "ice" one blue and white. both have the number 011 written on their back and retain the "exploding" gimmick of previous versions.